Video Shows Absolute Best Reaction From Baby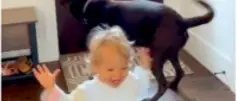 This is heartwarming.
---
This baby had a great reaction to her father coming home. She was jumping and running around with excitement with her dog. The father is seen parking and walking up to the door to greet his daughter.
The reaction shocked millions of people due to the pure excitement of his daughter and the reaction that he gets every time he comes home from work.