Teacher Stuns Students With Hidden Talent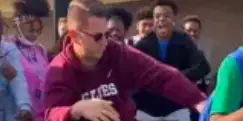 This teacher stole the show after he was seen showing off his dance moves during a school event. The teacher is seen walking up to a group of students before showing off his moves.
The video went viral after students shared it on social media. The teacher is seen doing dance moves in a middle of a circle that was formed by the students.