Dog Goes Viral In Heartwarming Video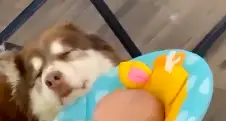 This is amazing.
---
This dog went viral after he is seen rocking a baby to sleep for the night. The dog is seen pushing the baby as it slept in its cradle.
Many individuals were stunned to see that the dog managed to rock a baby to sleep with no effort.
This is Bowser. He's the designated baby bouncer for today. Doesn't mind the responsibility because he's quite good at it. 14/10 pic.twitter.com/olrsmdUhCb

— WeRateDogs® (@dog_rates) January 19, 2022